Could This Centuries-Old Beauty Ritual Be the Key to Healthy, Glowing Skin?
Even if you're not a beauty history buff, you know that there are just some rituals that have been practiced for centuries — and we have ancient Egypt to thank for a good many of them. The cat eye and body waxing have all been beloved since the times of Cleopatra, and dry brushing is another technique that's been used for centuries.
Dry brushing is quite simply the act of scrubbing your dry skin pre-shower with a boar bristle brush. The tradition has been praised and passed down for generations for a host of skin improving qualities like soft, glowing skin, lymphatic drainage, and even the appearance of cellulite.
Before picking up a brush and implementing this practice into your daily routine to see if it's possible to scrub your way to a smoother derriere, keep reading. We tapped a handful of wellness experts to break down everything you need to know about this ancient beauty ritual.
What is dry brushing?
Christine Bullock, health, beauty, and wellness expert and co-founder of KAYO Better Body Care®, puts it best: "It's a simple beauty and wellness trick that only costs pennies, takes five minutes, and cleanses the body, inside and out." A combination of exfoliation and massage, dry brushing is performed by moving a firm, boar bristle brush over dry skin to exfoliate, stimulate circulation, increase lymphatic drainage, and help eliminate toxins from the body.
It's important to note that to get the best lymphatic drainage results, like less water retention and detoxification, there is a bit of science to it. According to Gara Post, co-founder and Creative Director of The NOW™, a massage boutique, you should start at the feet and use long, sweeping motions. "Always brush up towards the heart, taking special care of delicate areas and spending a little extra time on joints, cellulite, and anywhere you feel tension or stagnation" she adds.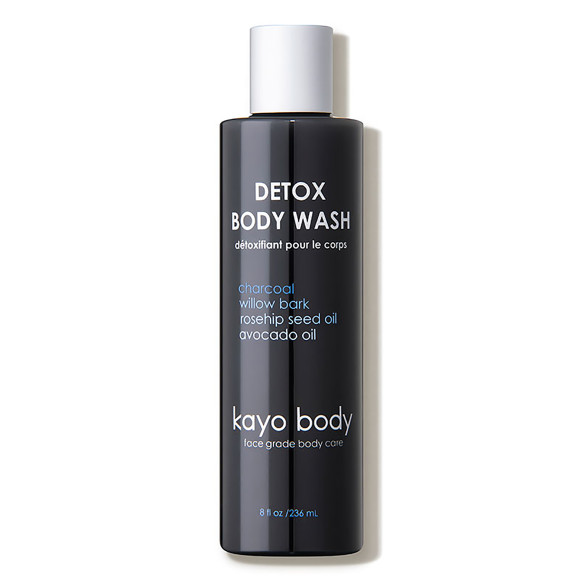 While both Bullock and Post suggest dry brushing prior to a morning shower to help you get energized and ready for the day, this practice can be done at any time — just consider pairing it with a warm shower or bath to promote even more circulation. Bullock suggests using a charcoal body wash, like KAYO Body Detox Body Wash ($32), to absorb any extra toxins from the skin.
What are the benefits of dry brushing?
The laundry list of benefits is impressive, especially for a practice that's so easy to do. According to celebrity esthetician Cynthia Marie Franco, dry brushing helps open the cuticle to the skin and bring blood flow to it. "[This], in turn, helps oxygenate the skin cells and also manually moves your lymphatic system which keeps your body healthy," she explains.
Bullock points out that our skin is our largest organ and plays an important role in eliminating toxins in the body. It makes sense, then, that pampering it with dry brushing could result in deeper health perks. Post shares that you can look forward to a boosted immune system, accelerated lymphatic clearing, less water retention, skin detoxification, and soft, smooth glowing skin. At a surface level, expect resurfaced skin, enhanced circulation, evened-out skin tone — and, yes, some even notice an improvement in the appearance of cellulite.
How do I start dry brushing?
If you're new to dry brushing, start incorporating the practice one to two times a week, building up frequency as your skin adapts. Sensitive skin types do need to be mindful, says Post, who mentions that dry brushing can cause irritation. This can lead to flare-ups in those with conditions like eczema and psoriasis. (Consult with your doctor if you have these or other skin conditions before dry brushing.) To be safe, test an area of your skin first to see how it reacts, and avoid sensitive spots if you deem dry brushing to be a fit for you.
You can find dry brushes online and at most drugstores, and they come in many sizes and shapes. A classic oval boar bristle like the Body Detox Skin Brush ($45) is the most common. However, if you're looking for an elevated spin on your dry brushing ritual, Nourish by The NOW Copper Dry Brush ($42) combines the standard natural bristles with copper.
"Copper is a powerful metal that is utilized traditionally for its antibacterial and antiviral properties," Post explains. "Modern life with all its devices can fill our environment with unnatural, positively charged electrical ions that [may] contribute to feelings of lethargy and dullness." The copper in this dry brush is meant to generate neutralizing negative ions to help counteract the effect of those positive ions.
No matter what brush you opt to use, be sure to clean it once a week with soap and water. You'll want to purify it and keep it clean of bacteria and dead skin. "Leave it in a dry sunny spot to avoid any mildew accumulating on your brush," advises Bullock. After all, with its laundry list of skin and health benefits, you'll want your dry brush to be operating at its highest performance possible.
---quiz start
---quiz end
Product prices may vary from the time this article was written.
Allergan® may receive commissions for purchases made through links in this article.